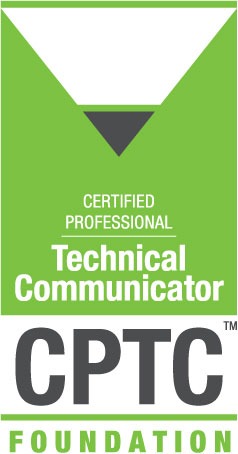 2023 Course Registrations Available!
January 10, June 8, September 12, 2023
More than 70 attendees to date!
From the APMG website: CPTC™ validates the skills, knowledge and competence of technical communicators as they advance in their professional careers.
CPTC is a certification scheme developed by APMG on behalf of the Society for Technical Communication (STC).
The Society for Technical Communication is the world's largest and oldest professional association dedicated to the advancement of the field of technical communication. The Society, with headquarters in the United States, has members in over 40 countries and across all continents.
Objective validation of technical communication competency.
Enhanced employment opportunities as you can differentiate yourself from others.
Indicates to your existing or potential employer that you are committed to the field of technical communication.
I am an Accredited Trainer for the Certified Professional Technical Communicator (CPTC™) exam. I'm available through both the Rochester Institute of Technology and individually to provide a 12 hour training course followed by the CPTC exam. I'm also happy to refer you to a fellow trainer if that meets your needs better.
Why Should I Certify?
NEXT COURSE
Virtual CPTC Exam Prep Class, eight week sessions beginning January 10, June 8, September 12, 2023
Please join me for an eight-session weekly virtual training course for the STC Certified Professional Technical Communicator (CPTC) Foundation exam offered through the Rochester Institute of Technology. Note that the course fee includes all eight sessions. There is no per session pricing.
All sessions will be recorded.
In this eight-session weekly class for certification, we will prepare you for the CPTC Foundation exam. Participants will learn the Nine Core Competency Areas for Technical Communicators that are evaluated by the Certified Professional Technical Communicator (CPTC) Foundation Exam.
Project Planning
Project Analysis
Content Development
Organizational Design
Written Communication
Visual Communication
Reviewing and Editing
Content Management
Production and Delivery
The class facilitator, Ben Woelk, CISSP, CPTC is an accredited CPTC™ trainer. RIT is an Approved Training Organization.
Please note that the class does not include the exam fee nor provide time to take the exam. The online exam can be booked directly through APMG at https://apmg-international.com/product/cptc, and is proctored remotely. The exam fee is currently $270 for STC members, $540 for non-members. Attendees have one year to take the exam after purchasing it from APMG. Information about STC membership is at https://www.stc.org/membership/.
Registration
Costs
Additional details:
Although not required for the training class, we strongly recommend you study the body of knowledge for the exam, Richard Johnson-Sheehan, Technical Communication Today. Either the 5th or 6th edition is suitable. You can purchase or rent the book through Amazon or Barnes and Noble. Registrants will also receive an invitation to an online CPTC study group hosted on Slack.
For more information please contact Ben Woelk at ato@rit.edu for more information. This CPTC foundation exam preparatory class is offered by the Rochester Institute of Technology.
CPTC™ is a trade mark of the Society for Technical Communication.
Course Reviews
I was a student in Ben's Fall 2021 cohort for the Certified Professional Technical Communicator (CPTC) course. The course is meant to prepare someone to take the CPTC exam, and it certainly did! I am confident I would not have done half as well, or even have passed, if I hadn't taken Ben's class. Every class in the 8-week course had material that directly transferred to the exam's content, plus Ben was humorous, friendly and more than willing to make sure each class member had individualized help. I felt he stayed on topic and was respectful of everyone's time, while allowing discussion and encouraging participation. If you get the opportunity, I highly recommend Ben Woelk's CPTC instruction.

-Gen Gilliland

Great course!

Excellent style and put us at ease. Really gave us very useful test taking advice and prep.

One of the best instructors ever. Able to hold my sleepy-ADD mind for a day and a half on a weekend while making me retain info. Kudos!

Ben did a fantastic job running this class! He made it clear from the start that this class complements, does not replace, the text. But I feel I have a better understanding of what to expect on the exam.

Your class gave my prep a TREMENDOUS boost. You were a fantastic teacher, and I got a lot out of each session.

CPTC Resources
Society for Technical Communication
Allie Proff and Ben Woelk Resources
Contact me about the CPTC!