I consider my involvement with the Society for Technical Communication as the most profound engagement of my professional career.  I've had the opportunity to develop as a servant leader and have made a difference locally and internationally.
I received the Society for Technical Communication President's Award in May 2017. Here's the citation:
The President's Award honors those who have made distinguished contributions to the profession of technical communication or the Society. Today it is my great honor to present this award to someone many of you know. His outstanding contributions to STC in various roles including Rochester Chapter Co-Vice President, Scholarship Committee Chair, former Director on the STC Board, Spectrum Conference Co-Chair, STC Notebook blog contributor, Intercom guest editor, CPTC and introverted leadership study groups coordinator. His dedication to the technical communication profession and his approach to excellence represent STC at its finest.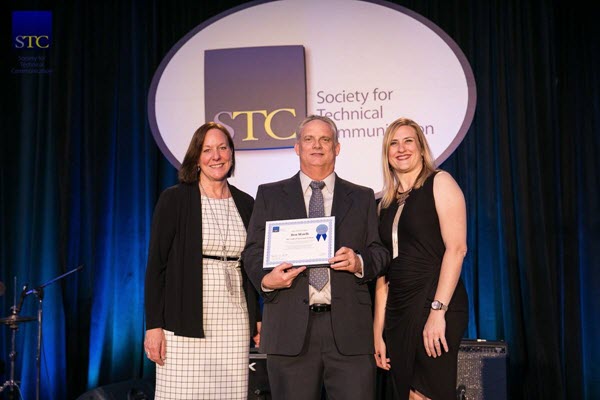 In May 2017, STC conferred upon me the rank of Associate Fellow for having attained such eminence in the field of technical communication that I have been singled out as one of the select few who have distinguished the Society and the profession.
Here's the citation:
For passionate support and mentoring of STC leaders and members by modeling servant leadership and developing innovative solutions that strengthen STC communities.
I've been a technical communicator for more than 20 years and a leader at the local and international level in the Society for Technical Communication (STC) for more than 10 years. As Rochester Chapter president, I strengthened the chapter's ties to the Society and engaged the chapter in the Community Achievement and Pacesetter Awards. Rochester has since been recognized as Community of the Year twice in four years. I began my Society-level service with the Community Affairs Committee, where I created and led an outreach team to support community leaders, and later served as committee chair. I actively seek to develop innovative and sustainable practices to help STC communities become stronger.
STC Service
International
Chair, Scholarship Committee and Senior Advisor, Community Affairs Committee, 2016-18
Chair, Scholarship Task Force, 2015-16
Director at Large and Community Affairs Committee Chair, 2013-15
Outreach Team Lead, Community Affairs Committee, 2011-2012
Rochester
Vice President and Spectrum Co-chair, 2016-18, 2009-2010
Education Manager, Mentoring Lead, and Webmaster, 2012, 2015-16
President, 2010-2011
Program Manager, 2007-2009
STC Awards
President's Award (2017)
Associate Fellow (2017)
Barbara Knight Award (2016), Rochester
Rochester Carl E. Klug President's Award (2010), Rochester
Selected STC Publications and Presentations
Intercom Magazine
"An Introduction to Type'" co-authored with Andrea Wenger and Guest Editor, Feb. 2017
"Engage! Creating a Successful Security Awareness Program to Reduce Risk" and Guest Editor, June 2013
"Why Join a Chapter?" Jan. 2012
"Digital Self Defense for Technical Communicators" Nov. 2010
Presentations
Keynote and Workshop Presenter, STC New England Interchange Conference, October 2017
Workshop Presenter, STC Summit, May 2017
Workshop Presenter, STC Philadelphia Metro Conduit Conference, March 2017
Co-Keynote, STC Philadelphia Metro Mid-Atlantic Technical Communication Conference, March 2013
Multiple Presentations at Interchange, Spectrum, Conduit, Summit, Summit Leadership Day
Multiple Webinars