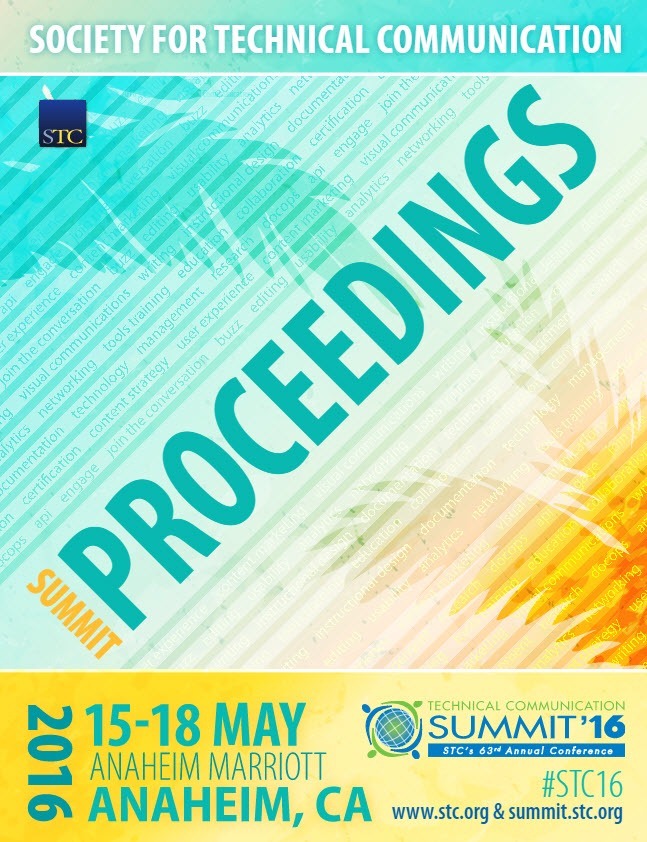 Category:Introverted Leadership,introverts,Leadership
One of the responsibilities for STC Summit presenters is to provide a paper for the Proceedings that are intended for use by libraries and instructors. Here's my contribution:
AN INTROVERT'S JOURNEY TO LEADERSHIP
Many of us might agree that Western society lauds extroverted leaders and their accomplishments. However, introverts make great contributions and can be effective leaders too. Many of us are introverts who may feel unsuited or unequipped for leadership, but are not sure how to take that next step to increase influence and improve visibility. Have you wondered how to empower yourself and leverage your innate skills to become a leader? This paper shares my personal insights and my leadership journey from shy team member to recognized leader. I'll also share key steps I took and experiences that have helped me become a successful leader.
I am an Introverted Leader, despite outward appearances.
My introversion informs my approach to leadership.
I believe that self-understanding and leveraging introverts'
strengths have made me a better leader.
What is an Introvert?
NOTE: Please regard this section as a generalization. Individuals will differ.
Extraverts focus on the outer world of people and things. They tend to be active and have a wide breadth of interests. They understand things through experience. They may be reward seekers and desire fame. They are energized by contact and activities undertaken with others.
Introverts, on the other hand, have a rich inner thought life of ideas. They tend to have a depth of interest, preferring specialization to a breadth of knowledge. They may mull over thoughts and concepts, but not express those thoughts verbally or externally. Introverts recharge themselves by withdrawing from the hubbub to places of quiet and solitude.
How Introvert Strengths Apply to Leadership
Think of introverted leaders. Examples include Albert Einstein, Steve Wozniak, and Abraham Lincoln. What made them good leaders? Those are the characteristics introverts may want to emulate. Einstein is known for his depth and clarity of thought (and his genius). Although
Steve Jobs is the most well known leader of Apple, Wozniak was responsible for many of the innovations. Abraham Lincoln was not gregarious, yet was able to think and act strategically and provide leadership during what may have been the most trying times for the United States.
How I've Made it Work for Me
My strengths include my ability to identify gaps, my desire to make a difference, practicing a servant leadership model, and pursuing excellence. I'm also competitive. (That competitiveness can be both a strength and a weakness. I can push myself and others towards goals. However, I have an innate desire to win at whatever I'm engaged in.)
By no means do I consider myself to have "arrived," but I am surprised by how far I've come. Most of my professional growth has come in the last 20 years. I never envisioned myself as a leader and certainly didn't believe that I'd be able to stand in front of a crowd and still be able
to speak articulately. Although there are many formative steps I could look back on, building on small successes, reading about and better understanding introversion, understanding how I communicate best, and understanding my personality type (MBTI) have probably helped the
most.
Growth opportunities include:
Overcoming conflict avoidance
Overcoming reticence
Not over-analyzing
Harnessing competitiveness
Strategies
An introvert can employ a number of different strategies:
Network: Stop avoiding events
Understand how you work best. Get to know yourself. Take a personality assessment.
Let others know how you process
Leverage social media
Communicate in multiple formats
Recharge!
Resources
Cain, Susan. Quiet: The Power of Introverts in a World That Can't Stop Talking (New York, NY: Crown), 2012.
Kahnweiler, Jennifer B. The Introverted Leader: Building on Your Quiet Strength (Oakland, CA: Berrett-Koehler Publishers), 2013.
Keirsey, David. Please Understand Me II: Temperament, Character, Intelligence (Delmar, CA: Prometheus Nemesis Book Company), 1998.
Laney, Marti Olsen. The Introvert Advantage: How to Thrive in an Extrovert World, (New York, NY:
Workman Publishing Company), 2002.
Petrilli, Lisa. The Introvert's Guide to Success in Business and Leadership Kindle e-Book (Chicago, IL:C-Level Strategies), 2011.
_______, Jung Typology Test,www.humanmetrics.com
Accessed 4/11/2016.
Author Biography
Ben Woelk
Former Director, Society for Technical Communication; ISO Program Manager; Information Security Office, Rochester Institute of Technology; Security Guru; Introvert; INTJ; CISSP; Author of Shockproofing Your Use of Social Media: Staying Safe Online (Kindle).
From "An Introvert's Journey to Leadership," 2016 STC Technical Communication Summit Proceedings, 31-32