Category:Introverted Leadership,introverts,Leadership,Lessons Learned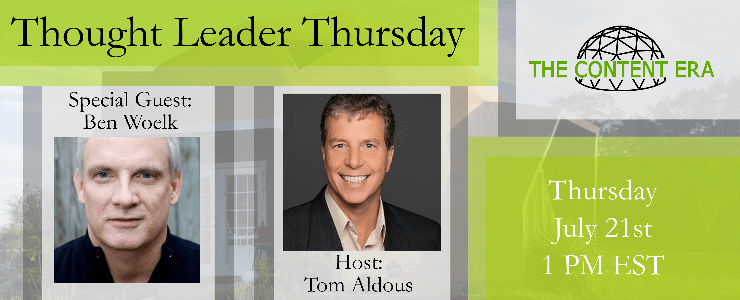 Listen to the recorded session from Thursday, July 21st on The Content Era: Thought Leader Thursday hosted by Tom Aldous, where I spoke about Introverted Leadership and my leadership journey. I also shared how I'm leveraging my STC Summit 2016 presentation, An Introvert's Journey to Leadership, to mentor introverted leaders and start building a virtual community to discuss issues affecting them and share resources.
Thought Leader Thursday Promo
The Content Era's "Thought Leader Thursday" hosted by Founder and CEO, Tom Aldous, brings up intriguing concepts with industry's top Thought Leaders to keep you questioning the assumptions. Tune in Thursdays at 1PM EST as Tom picks the brains of some of the brightest minds we've come across.
This week Thought Leader, Ben Woelk joins Tom Aldous. Many of us might agree that Western society lauds extroverted leaders and their accomplishments. However, introverts make great contributions and can be effective leaders too. There are many introverts who may feel unsuited or unequipped for leadership but are not sure how to take that next step to increase influence and improve visibility. Ben will share key steps he took and experiences that have helped him become a successful leader and share recommendations for how introverts can leverage their innate skills and flourish in the workplace.He'll also discuss how he's using Slack to build a virtual community to support introverted leaders.
Listen to the recorded session.
Related articles