Category:Communications Processes,Infosec Communicator,Leadchange,Lessons Learned,techcomm,Uncategorized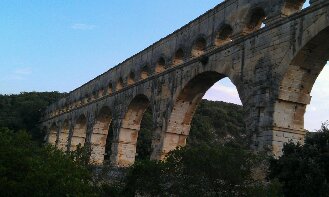 This past fall we had the privilege of visiting Pont du Gard, a Roman bridge and aqueduct in Languedoc in the south of France. Although built primarily without mortar (except for the top course of blocks), Pont du Gard has endured for more than 2000 years, despite frequent spring floods.
The Pont du Gard aqueduct/bridge was built to provide clean water for the town of Nimes. Its builders understood the importance of building a structure that took into account the factors that would affect the bridge. They understood at least some of the pressures that would bear on that structure. They built the bridge accordingly. Its builders designed it to endure.
So, this blog is about communications. What does the Pont du Gard have to do with communications?
Much of my role as a technical communicator has been to build processes that enable the flow of good communication. I've had to factor in the context (pressures that will bear on the structure) in which I was building those processes. Those communications processes are the bridges (aqueducts) that I build. In distributed organizations, well built communications bridges are critical to the health of the organizations.
Over the next few weeks, I'm going to talk about bridge building.  First, I'll discuss my initial attempts at architecting communications processes for a Fortune 500 organization that had outsourced key support processes in the midst of a major software/hardware infrastructure transformation. Next, I'll discuss communications processes I've built in my role as an information security practitioner in higher education. Finally, I'll talk about my current work to build a sustainable communications bridge that enables clear communications between a central organization and its distributed communities, ensures the concerns of those distributed communities are heard, and facilitates best practice sharing among those communities.
Related articles