Category:Higher Education,Information Security,Infosec Communicator,Leadchange,Uncategorized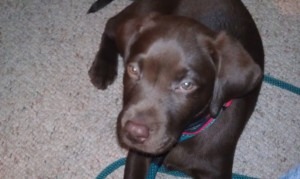 My thoughts on another challenge facing infosec offices in higher education. It reflects my thoughts, and not necessarily those of my employer.

We had the privilege of being puppy raisers for Guiding Eyes for the Blind, an organization that provides assistance dogs for the visually impaired. Our role was to help the puppy become a mature adult who was able to fulfill his role as an enabler. Yes, it's a stretch, but it's also what an Information Security Officer does when "raising" an information security program. A mature information security program becomes an enabler for the business and users it supports. A mature guide dog enables the user it supports to go about his or her daily business. (And no, I'm not going to try to keep drawing parallels between the two experiences!)
In a university setting, maturing a security program and successfully accomplishing initiatives depends on cooperation and collaboration. In my experience, there is very little that can be mandated, unless required for legal compliance; even then, there may be significant resistance. Understanding the business needs of an institution will enable the Information Security Office to set the best balance between security strategies and other priorities at the campus level; thus, opening doors to acceptance of security initiatives.