Category:Information Security,Infosec Communicator,Internet Safety,mobile device,password,Privacy,Social Networking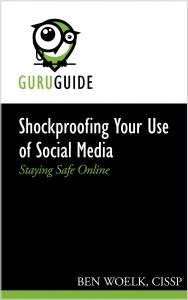 I've changed the subtitle of my Kindle eBook on using social media safely to better communicate the subject matter. I've also lowered the price point to $0.99. The book sold reasonably well during the week-long reduce price promotion as a Kindle Countdown book, so I've reduced the price.
Thank you to my reviewers for providing their impressions of the book. Authoring and self publishing has been an interesting experience. I found my conversations with Guy Kawasaki and his APE: Author, Publisher, Entrepreneur to be especially helpful.
Nick Francesco is doing well with his Your Guru Guide submissions. I recommend checking them out if you're interested in Chromebooks or how to best leverage Google Docs.
What would you like to see for my next eBook?